Center for Leadership and Diversity
IMI-Delhi has launched the Centre for Leadership and Diversity (CLD) to examine and research, issues in today's global workplace where a large and diverse employee base exists. This is probably a one of a kind Centre which focuses exclusively on diversity in leadership and gender. It aims to contribute in the domains of cutting edge research to break the myths and challenge notions of contemporary leadership. At CLD, we aim to address, highlight and research on issues faced by the large and increasingly diverse population at the workplace. We also plan to offer training customized to issues of diversity and inclusion.
AIMS & OBJECTIVES OF CENTRE
A platform and forum for brainstorming on LEADERSHIP & DIVERSITY related issues.
To profile and understand the contemporary IndianLeader at the workplace by conducting research.
Develop and deliver training across gender, culture andphysical ability differentials.
Examine issues of what organizations need to do toharness talent beyond gender; cultural and physicalability differences.
Develop a network of thought leaders who can jointlyaddress the issues and challenges for inclusion in anincreasingly global facing Indian economy.
As a part of the Centre's initial initiatives we have undertaken a nationwide study to profile men and women in leadership positions to study myths around Gender.
We also are organizing a Round table Discussion on Sexual Harassment at the Workplace in May at Mumbai & Bangalore.
Schedule of Events
ROUND TABLE ON WORKPLACE SEXUAL HARASSMENT
17/05/14:MUMBAI: MCA Recreation CentreBandra Kurla Complex, Bandra East , Mumbai -400051
25/05/15-BANGALORE
ONGOING RESEARCH
NATIONAL STUDY ON : LEADERSHIP BEYOND GENDER
A STUDY UNDERTAKEN TO CREATE PSYCHO-SOCIAL PROFILES OF LEADERS
LOGO DESIGN COMPETITION
WINNER Kushal Swain ,SDMIMD, Mysore
RESEARCH
PROFILING STUDY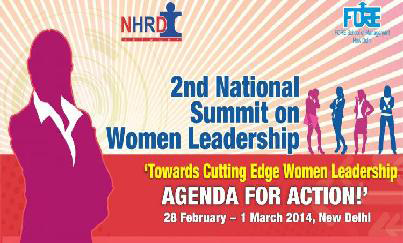 CURRENT RESULTS
The Initial Results Of A Nationwide Profiling Study(N=215; Men=100;Women=115) Of Leaders Across The Corporate Workspace, Has Yielded No Differences Vis A Vis Gender For Held Instrumental & Terminal Values .
Other Characteristics Being Studied Have Been Achievment Motivation, Creativity, Intuition, Resilience ,core Self Evaluation, Flexibilty & Internal Locus Of Control Where No Gender Differences Have Been Found.
CONSULTANCY/TRAINING
FORTHCOMING ACTIVITIES
Distinguished Speaker Series
Collaborative Research projects
Global and National Women Leadership Events
Roundtables and Seminars on Contemporary issues of Leadership & Diversity
Training and Skill Development for Corporate Women Leaders
TEAM CLD
CHAIRPERSON

Prof Asha Bhandarker Dean (International Relations);
Distinguished Professor (OB-HR), IMI DELHI
TEAM
PROF SUBIR VERMA -DEAN , CORPORATE RELATIONS, PLACEMENTS & ALUMNI AFFAIRS.
PROF KSHITIJA WASON
Calendar
Schedule of Events

MUMBAI– MAY 17TH 2014
ROUNDTABLE ON WORKPLACE SEXUAL HARASSMENT 6:30pm –8:00pm
MCA Recreation Centre Bandra Kurla Complex, Bandra East , Mumbai -400051
25/05/15-BANGALORE
ROUNDTABLE ON WORKPLACE SEXUAL HARASSMENT
Le Meridien, 28, Sankey Road, Chowdaiah Rd, Vasanth Nagar, Bangalore,
Karnataka 560052
ADVISORY BOARD
To be updated soon.