Business Education and IMI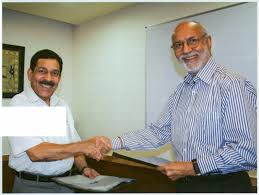 IMI's industry linkages with several public, private and multinational companies such as 80C, J.K. Corp., lTC, McNeil Magor, Nestle, RPG Enterprises, SAIL, Tata Chemicals, Associated Cement Companies have been crucial in supporting the institute to build world class infrastructure. The management programs of IMI are designed to enable young professionals with high potential to reach landmark positions in their career. To achieve this, the programs revolve around the notion that world-class business leaders are not mass-produced; they are customized and developed in an action-oriented environment.
Mr. S. Y. Siddiqui, Managing Executive Officer, Administration(HR, Finance, IT &
COSL), Maruti Suzuki India Ltd. and Director General, IMI Padma Shri Dr.Pritam Singh
exchanging MOU for providing management education to employees of MSIL through its
PGDM(PT) program.
The curriculum, which has a strong international perspective, prepares participants to manage, lead and succeed in the increasingly competitive global business environment. With the participants representing diverse cultural and educational backgrounds, learning to operate and manage in a setting where no culture dominates is intrinsic to the IMI experience. The Institute recognizes the importance of soft skill development and helps participants to develop these through the academic programs at the Institute.
Staying Close to Practice
IMI programs are inspired by aligning academic theory with management practice. The real life relevance of the program is achieved through, firstly, the experienced faculty, who stay in constant touch with management practice by extensive field-based research and consulting activities. Secondly, the learning material used in the programs is focused towards current and emerging issues in management practice. Finally, the experiences shared by distinguished visitors from the corporate arena help to align theory with the real world business needs. Finally the composition of our faculty, a large proportion of whom are with years of industry experience, enables enrich the learning xperience in the class with exposure to best practices.
Enhancing Teamwork
Strong emphasis is laid on developing the participant's skills of leading and working in teams. The interactive skills of effective communication, conflict resolution, negotiation and mobilizing individuals towards common goals are essential ingredients of effective management in today's organizations. Such personal qualities are developed and imbibed in the programs through classroom discussions, group assignments and other team activities.
Cultivating Integrative Capabilities
The growing complexity of business problems makes it increasingly challenging to address management issues holistically to devise solutions that cut across narrow functional fields. IMI programs foster such integrative capabilities with cross-functional modules that synthesize a number of specialized disciplines into a unified learning experience. Accordingly, participants develop skills through a case-based approach and are encouraged to analyze issues from several, often conflicting, viewpoints before deciding on a course of action.
The FAIR Model (Foundation, Application, Integration and Reinforcement)
Distinct from any other Business School, IMI believes in integrating the four phases as highlighted by the FAIR model in every academic module. In order to achieve this, the modules are designed so as to incorporate fundamental concepts in the initial phase followed by the application and subsequent integration with real life business situations. Initially, participants work individually studying assigned
cases, reading material, completing exercises, extracting pertinent facts and identifying issues or concepts that require in-depth understanding. They are expected to contribute to the learning process, by sharing accumulated knowledge and work experience through active discussions. Judicious blends of learning processes, in addition to self-study, are used at the Institute.
LECTURES AND DISCUSSIONS
Lectures by faculty and practicing managers who are invited from industry, are used to introduce concepts, techniques, issues, and to moderate the exchange of individual views. Performance in class discussions requires a high level of preparedness with sensitivity to others' point of view.
CASE STUDIES
Case studies are an integral part of the learning experience at IMI. The case method, encourages students to view situations is as close to real-life scenario as is possible. They learn to take decision-making with that much more conviction as also taking into reckoning the implications of their decision on other areas. Reading between the lines is a skill that, case method, encourages students to adopt.
PRESENTATIONS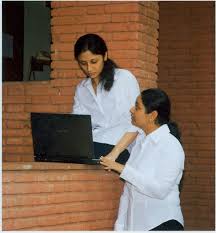 Presentation in the corporate world, are now part and parcel of daily working life. By working in small groups, students develop the art of presentations, besides learning to defend presentations. Participants experience the challenges associated with group responsibility, collective decision- making and persuasive communication. The integrative module exercises typically lead to xperiences that enhance participants' ability to express their ideas clearly and convincingly-a valuable personal asset in business life. Emphasis is also laid on written and spoken communication through workshops and live presentations.
SITUATION ROLE-PLAYING
To get fully involved, to experience the dynamics of practical management situations as well as enhance behavioral characteristics, role plays with participants covering diverse managerial roles are carried out. This is adopted across functional areas, depending on the need of individual courses.
COMPUTER-BASED MODELS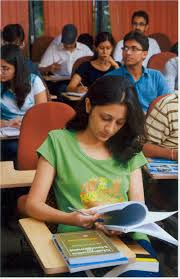 IMI uses integrated computer-based models and simulations which are woven into the learning process. Courses in Marketing, Economics, Finance and Strategy, besides IT and Operations are taught in this mode.
LEARNING BY DOING
In the two year full-time programs each participant is required to do a summer internship with a reputed business organization for 8-10 weeks at the end of the first academic year. During their elective courses, students are encouraged to take up live projects to align knowledge and its application.